GUITAR TOTS - BOOK 2
Guitar Lessons For Children
SKILL LEVEL: Some Experience (age 6 +)
Suitable for Electric & Acoustic Guitar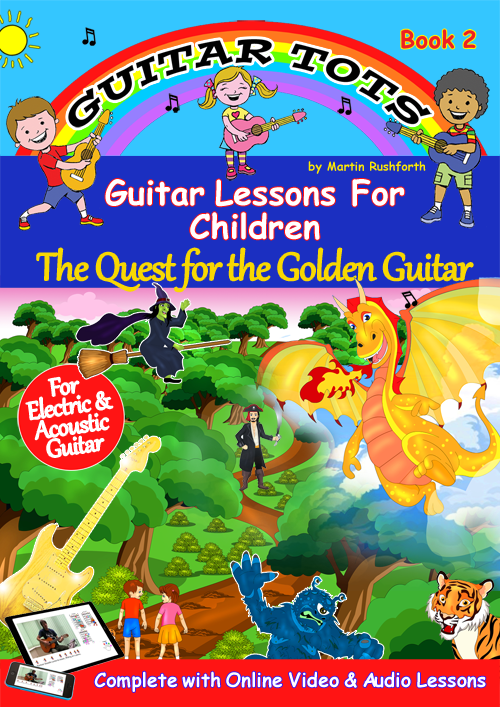 Guitar Tots Book 2 - Lessons For Children (aged 6+)
Lesson Book with Online Video & Audio
ISBN: 978-1-5272-1796-6
Specially designed lessons for children
For Electric & Acoustic Guitar
No musical knowledge required
Fully illustrated in colour
Easy to follow lesson book with no musical score
7 original songs in the style of Rock, Reggae, Country, Blues, Folk, Ballad and Rock n Roll
1 hour video lessons online via online members area
Play-a-long audio via online members area
Introduction to more advanced musical concepts such as notation and rhythm
Countless hours of fun and priceless early learning
Includes secure online video and audio lessons without any Youtube adverts, creating a safe environment for children!
More about Guitar Tots Book 2:
Guitar Tots Book 2 progresses on from Book 1 introducing children to slightly more advanced musical concepts such as notation, rhythm, timing and scale patterns. All the melodies are written in either the key of C major or G major which are the first 2 essential scales and are the building blocks of musical score.
It is specially created for children aged 6+ who have either gained an understanding of Book 1 or who have already attained a reasonable knowledge of basic chords.
The lessons are suitable for electric or acoustic guitar and designed to give your child a wide taste of musical styles and rhythms including - Rock, Reggae, Country, Blues, Folk, Ballad and Rock n Roll.
The Book and accompanying 1 hour video lessons give complete instruction for reading the musical notation system of TAB which is recognised and used by guitar players around the world. TAB is considered to be the perfect introduction to reading full musical score and suitable for both children and adults.
Once the basic theory of TAB has been mastered in the lesson section of the book there are then 7 amazing songs to learn in the style of Rock, Reggae, Country, Blues, Folk, Ballad and Rock n Roll.
The lessons are cleverly interwoven into a gripping fantasy game 'The Quest for the Golden Guitar' where 3 intrepid young characters Dylan, Tina and their dog Memphis find themselves trapped in a world of witches, trolls, giants and dragons...their only way of escape is to seek out and play 7 pieces of music to 'The Guardian' who protects the Golden Guitar.
Will they ever find their way home? Only you can decide...
Here are the 7 stunning lessons (Click the players to listen):
Lesson 1: Spooky Blues (Blues) - A very cool blues riff and chord sequence that you cannot fail to tap your feet along to!
---
Lesson 2: Time To Go (Power ballad) - A sophisticated chord sequence with a beautiful harmonic melody. Watch out though! Play this melody on electric guitar and suddenly you have a powerful guitar solo that Slash would be proud of.
---
Lesson 3: Thunder and Lightning (Hard rock) - Played on either electric or acoustic this tune just ROCKS. Turn this up to 11.
---
Lesson 4: Magic Country (Country) - Yeeeee haaaaa! This snappy little country song is a real show stopper. Has a true country feel in the style of Dolly Parton/John Denver/Taylor Swift. Grab your partners!
---
Lesson 5: One Big Heart (Rock n Roll) - This great little tune has a 60's Hank Marvin/Beac Boys feel and introduces the concept of guitar soloing.
---
Lesson 6: Everybody's Happy (Reggae) - No matter what your taste is in music everyone loves a bit of Bob Marley and this song has that warm caribean feel running throughout. Really great fun to play.
---
Lesson 7: Taller Than Trees (Folk) - There probably isn't a musician around who doesn't take influence from traditional folk music..it just has style and emotion. This lesson fits this genre perfectly.
The lessons are achievable with regular practice but just challenging enough to promote gradual progression.
While your child works through Book 2 they will:
Gain a good understanding of musical rhythm
Understand timing and time signatures
Prepare themselves for reading musical score more easily
Have a better understanding of chords and chord sequences
Learn how to read guitar TAB
Become proficient at playing guitar melody
Play and change chords better
Begin the concept of guitar soloing
Learn notes in scales
Improve as a guitar player and musician
The extra benefits to your child...
Young kids love interaction and are also amazing at learning, especially if they are enjoying themselves in the process.
Early learning education (a head start on other children)
Achievement
Confidence
Popularity (guitar is a very cool thing to play)
Concentration
Co-ordination
Creativity
Development
Improved memory
Interaction
Problem-solving
Independence
Enjoyment
Music, rhythm & timing
A life-long skill that one day they will thank you for!
What are the benefits to you...
Affordability - Guitar Tots costs you approximately the price of ONE lesson with a guitar teacher
Interactive time with your child
Time management - Lessons in your own home
A guitar teacher in your home 24/7, 365 days of the year
A perfect activity for those rainy days
You'll be providing your child with essential life skills at an early age to succeed in music
Educational - Yes, if you want to then grab a guitar and you will learn from these lessons too!
Who is Guitar Tots for...
Children aged 6+ or who have a reasonable knowledge of basic chords
Mums and Dads
Grandparents
Aunts & Uncles - Guitar Tots makes a great present for your niece or nephew
Guitar Teachers who want a ready-made course for their younger students
Schools & Nurseries
YOU CAN ORDER BOOK 2 NOW!
Get the complete package delivered to your door.
A Helping Hand For Kids & Parents
Complete package - Lesson book, Online Video & Audio
Special Offer!

Was £19.99

Today Only £12.99




*Free UK Delivery
Secure Payment: MOBILE - TABLET - PC
*No Paypal account required.
SPECIAL OFFER! - FREE UK DELIVERY.
We will deliver First Class Post FREE of charge in the UK
Prefer to buy on Amazon? Then click below...
Click Here >> (UK only)
Click Here >> (UK only)
We take your internet security very seriously which is why we only use Paypal secure payments or Amazon to process your order.
Your Purchase is 100% RISK FREE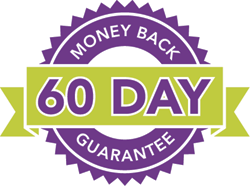 Because we are so sure that the Guitar Tots method is the best available - anywhere! - we can happily offer you a full, unconditional 100% refund if you and your child are not delighted with what you receive. Just email us within 60 days stating that you want your money back at admin@guitartots.com and we will refund you the full cost, no questions asked AND - you get to keep the course.